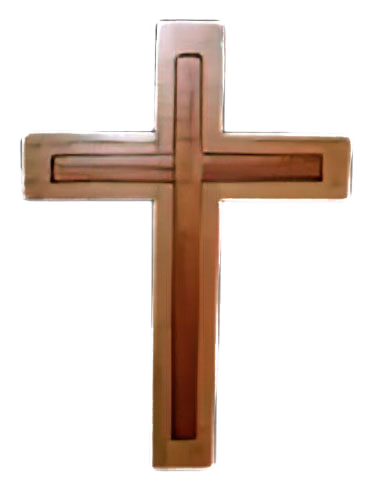 The Free Gift of God!
Jesus Christ loves you so much, that he died on the cross to take the punishment for your sins.
If you are looking for a purpose in life, someone to love you, and eternal security, Jesus Christ is the ONLY way to get any of those.  All you have to do is accept Jesus Christ's free gift of salvation.
"For God loved the world so much that he gave his one and only Son, so that everyone who believes in him will not perish but have eternal life." – John 3:16 NLT
Everyone is born with a sin nature. That is, everyone naturally wants to commit evil. There is NO such thing as someone who is inherently good! That is a LIE from Satan! If man were naturally good, then why would he do evil, since he naturally does what is good? Why do we have police if people are naturally good? Why do we have a military if people are naturally good? The answer:  we humans are NOT basically good.
Also, the idea of "circumstances have forced a person to commit evil, but man is still basically good" is false!
"The human heart is the most deceitful of all things,
and desperately wicked.
Who really knows how bad it is?" – Jeremiah 17:9 NLT
"Not a single person on earth is always good and never sins." – Ecclesiastes 7:20 NLT
"But no, all have turned away;
all have become corrupt.
No one does good,
not a single one!" – Psalm 14:3 NLT
All you have to do to have Jesus Christ in your heart is to confess with your mouth Jesus Christ is Lord, and believe with all your heart that God raised Jesus Christ from death. There are NO WORKS involved in obtaining salvation. The idea of (BELIEVING + WORKS) is a LIE from Satan!
"If you confess with your mouth that Jesus is Lord and believe in your heart that God raised him from the dead, you will be saved." – Romans 10:9 NLT
You cannot trust idols to get you to Heaven. They cannot see, hear, talk, nothing! They are made from the elements of the earth (stone, wood, gold, etc.) They are worthless to save you or your soul from total damnation in Hell!
"The idols of the nations are merely things of silver and gold, shaped by human hands. They have mouths but cannot speak, and eyes but cannot see. They have ears but cannot hear, and noses but cannot smell. And those who make idols are just like them, as are all who trust in them." – Psalm 135:15-18 NLT
Jesus Christ is the ONLY way to God the Father. Your good works are not enough to get into Heaven. Just by going to church or by just being good will not cut it (religion does NOT save you; Jesus Christ does). Giving to the poor, helping civil government, doing sacraments, believing in a literal 6-day creation (which is what the Bible teaches, not millions of years) will not cut it either. Only Jesus Christ can save your soul, not a priest, not Mary, not your pastor, not because you were born into a Christian family, not because your parents are Christians, not because you belong to a particular Christian denomination, not because you were baptized as an infant and/or adult, etc.
 "Jesus told him, "I am the way, the truth, and the life. No one can come to the Father except through me." – John 14:6 NLT
 "We are all infected and impure with sin. When we display our righteous deeds, they are nothing but filthy rags. Like autumn leaves, we wither and fall, and our sins sweep us away like the wind." – Isaiah 64:6 NLT
Baptism does NOT save you either! That is another LIE from Satan!
"If you confess with your mouth that Jesus is Lord and believe in your heart that God raised him from the dead, you will be saved." – Romans 10:9 NLT
Nowhere in the verse above does it say that baptism is necessary for salvation! The idea of salvation via baptism itself is heresy! 
Note:  People may use John 3:5 (when Jesus said to Nicodemus "…Very truly I tell you, no one can enter the kingdom of God unless they are born of water and the Spirit." as "proof" that baptism is necessary for salvation. However, what these people do not think about is the fact that Jesus NEVER mentions baptism specifically to Nicodemus anywhere when talking to him. So anyone saying that "Jesus said that baptism is necessary for salvation." (which, of course, is not true) is quite literally putting words into Jesus' mouth!
Here is a good example. When the thief on the cross was told by Jesus that he will be in paradise with Him that day, the thief was never baptized, but the thief still ultimately went to Heaven, since he had faith (not works) in Jesus Christ. Whether or not the thief was baptized had nothing to do with it.
"But the other criminal protested, "Don't you fear God even when you have been sentenced to die? We deserve to die for our crimes, but this man hasn't done anything wrong." Then he said, "Jesus, remember me when you come into your Kingdom." And Jesus replied, "I assure you, today you will be with me in paradise." – Luke 23:40-43 NLT
God is three in one (God the Father, God the Son [Jesus Christ], and God the Holy Spirit). Yes, the Bible does not actually mention the word "Trinity", but the idea behind the Trinity is very much real!
" Therefore, go and make disciples of all the nations, baptizing them in the name of the Father and the Son and the Holy Spirit." – Matthew 28:18 NLT
"The Father and I are one." – John 10:30 NLT
"I pray that they will all be one, just as you and I are one—as you are in me, Father, and I am in you. And may they be in us so that the world will believe you sent me." – John 17:21 NLT
If you die without asking Jesus Christ to be your Savior, the results are terrifying. You will burn in Hell…forever! There are no second chances to accept Jesus Christ as your Savior after you die. Your place in Hell (if you die without Christ) is permanent! Please do NOT trust the LIE from Satan that there is a second opportunity after death (widely known by many people as purgatory). There are no second chances!
If you die without Jesus Christ, you are doomed to Hell for eternity! Just think about that. One million years later, you are still burning in Hell. One billion years later, you are still burning in Hell. One trillion years later, you are still burning in Hell. When does it ever end…never! Think about that.
"And just as each person is destined to die once and after that comes judgment, so also Christ was offered once for all time as a sacrifice to take away the sins of many people. He will come again, not to deal with our sins, but to bring salvation to all who are eagerly waiting for him." – Hebrews 9:27-28 NLT
"That is the way it will be at the end of the world. The angels will come and separate the wicked people from the righteous, throwing the wicked into the fiery furnace, where there will be weeping and gnashing of teeth." – Matthew 13:49-50 NLT
"And I saw a great white throne and the one sitting on it. The earth and sky fled from his presence, but they found no place to hide. I saw the dead, both great and small, standing before God's throne. And the books were opened, including the Book of Life. And the dead were judged according to what they had done, as recorded in the books. The sea gave up its dead, and death and the grave gave up their dead. And all were judged according to their deeds. Then death and the grave were thrown into the lake of fire. This lake of fire is the second death. And anyone whose name was not found recorded in the Book of Life was thrown into the lake of fire." – Revelation 20:11-15 NLT
Jesus Christ died on a cross to give you the opportunity to accept Him as your Savior, so you would not have to go to Hell to pay for your sins, and so you may be with Him in Heaven forever when you die.
"We do this by keeping our eyes on Jesus, the champion who initiates and perfects our faith. Because of the joy awaiting him, he endured the cross, disregarding its shame. Now he is seated in the place of honor beside God's throne." – Hebrews 12:2 NLT
Jesus Christ wants everyone to accept Him as their Savior. Jesus Christ does not wish anyone to perish, but to accept His free gift of Salvation He paid for on the cross about 2,000 years ago.
"This is good and pleases God our Savior, who wants everyone to be saved and to understand the truth. For there is only one God and one Mediator who can reconcile God and humanity—the man Christ Jesus. He gave his life to purchase freedom for everyone. This is the message God gave to the world at just the right time." – 1 Timothy 2:3-6 NLT

"The Lord isn't really being slow about his promise, as some people think. No, he is being patient for your sake. He does not want anyone to be destroyed, but wants everyone to repent." – 2 Peter 3:9 NLT
Jesus then was raised to life on the third day (after He died on the cross).
"And we apostles are witnesses of all he did throughout Judea and in Jerusalem. They put him to death by hanging him on a cross, but God raised him to life on the third day. Then God allowed him to appear, not to the general public, but to us whom God had chosen in advance to be his witnesses. We were those who ate and drank with him after he rose from the dead." – Acts 10:39-41 NLT
Jesus spent 40 more days on the earth showing Himself to people, and talked to them about God's kingdom. He proved to the people that He is really alive and well.
"During the forty days after his crucifixion, he appeared to the apostles from time to time, and he proved to them in many ways that he was actually alive. And he talked to them about the Kingdom of God." – Acts 1:3 NLT
Then Jesus went back to Heaven…
"After saying this, he was taken up into a cloud while they were watching, and they could no longer see him. As they strained to see him rising into heaven, two white-robed men suddenly stood among them. "Men of Galilee," they said, "why are you standing here staring into heaven? Jesus has been taken from you into heaven, but someday he will return from heaven in the same way you saw him go!" – Acts 1:9-11 NLT
where Jesus Christ sits at the right hand of God. Jesus is NOT still "dying" for our sins repeatedly as people have been (and are) taught to believe. He died ONCE and for all!
"Long ago God spoke many times and in many ways to our ancestors through the prophets. And now in these final days, he has spoken to us through his Son. God promised everything to the Son as an inheritance, and through the Son he created the universe. The Son radiates God's own glory and expresses the very character of God, and he sustains everything by the mighty power of his command. When he had cleansed us from our sins, he sat down in the place of honor at the right hand of the majestic God in heaven." – Hebrews 1:1-3 NLT
"We are sure of this because Christ was raised from the dead, and he will never die again. Death no longer has any power over him." – Romans 6:9 NLT
" Christ suffered for our sins once for all time. He never sinned, but he died for sinners to bring you safely home to God. He suffered physical death, but he was raised to life in the Spirit." – 1 Peter 3:18 NLT
Jesus Christ is coming back one day to take all believers to Heaven with Him. Do not be left out when Jesus comes back! He could come any minute!
"Don't let your hearts be troubled. Trust in God, and trust also in me. There is more than enough room in my Father's home. If this were not so, would I have told you that I am going to prepare a place for you? When everything is ready, I will come and get you, so that you will always be with me where I am." – John 14:1-3 NLT
"For you know quite well that the day of the Lord's return will come unexpectedly, like a thief in the night. When people are saying, "Everything is peaceful and secure," then disaster will fall on them as suddenly as a pregnant woman's labor pains begin. And there will be no escape." – 1 Thessalonians 5:2-3 NLT
To have your sins forgiven and for Jesus Christ to come into your life and accept you into Heaven, you must confess with your mouth that Jesus is Lord and really and truly believe in your heart that Jesus was raised to life on the third day.
The moment someone accept Jesus Christ as their Savior, the Holy Spirit enters into them. No, being baptized is not necessary for receiving the Holy Spirit. That is a LIE from Satan! Nowhere in the Bible will you find a reference to someone having to be baptized to receive the Holy Spirit!
"Don't you realize that your body is the temple of the Holy Spirit, who lives in you and was given to you by God?" – 1 Corinthians 6:19a NLT
"But—When God our Savior revealed his kindness and love, he saved us, not because of the righteous things we had done, but because of his mercy. He washed away our sins, giving us a new birth and new life through the Holy Spirit. He generously poured out the Spirit upon us through Jesus Christ our Savior." – Titus 3:4-6 NLT
If you want to have Jesus Christ as your Savior, pray this prayer: (Please remember that God looks at the heart to see if you really believe in His Son Jesus Christ. Praying a prayer does not save you…truly believing in Jesus Christ is what saves you…admitting he is Lord is what you naturally want to do since you believe in Jesus Christ.)
Dear Jesus,
I'm sorry that I have sinned against you. You are Jesus Christ, Lord over everything. I know I do not deserve your free gift of salvation. Please forgive me of my sins. I believe that you died on a cross for my sins, and came back to life on the third day. Thank you for sending your Son, Jesus, to pay the penalty for my sins.
If you prayed that prayer and really meant it, you are now a Christian!
Now if you became a Christian, you are not suddenly immune to problems. There is still sin in the world, you still have the want to do the wrong thing, but Jesus promises to help us out.
"The temptations in your life are no different from what others experience. And God is faithful. He will not allow the temptation to be more than you can stand. When you are tempted, he will show you a way out so that you can endure." – 1 Corinthians 10:13 NLT
Do not have a Bible? Don't worry. There are plenty of online Bible sources that you can use.
One website is: BibleGateway.com
Make sure to find a Godly church that only teaches what is in the Bible. There are many false teachers that try to make you believe in doctrines of demons (such as: we are not saved by faith alone [a LOT of people teach this demonic idea!], there is no hell, you can lose your salvation, "health and wealth" will follow you if you do certain things, etc.). These false teachers work for Satan whether they realize it or not.
"But there were also false prophets in Israel, just as there will be false teachers among you. They will cleverly teach destructive heresies and even deny the Master who bought them. In this way, they will bring sudden destruction on themselves. Many will follow their evil teaching and shameful immorality. And because of these teachers, the way of truth will be slandered. In their greed they will make up clever lies to get hold of your money. But God condemned them long ago, and their destruction will not be delayed." – 2 Peter 2:1-3 NLT